Duchess



Grand Champion Arcticpalace 
Snow Duchess
Newsflash 
Duchess was bought back out in the ring in 2009 at eight years old to earn her last points for her grand title which she gained Sept 09.
A well deserved title after Showing in her Mums shadow!
 Highlight 
 Duchess took out Best in Show 21.08.05
(Best in Show, Multi Best in Group, R/U Best in Group, and classes in Group and show winner)
NEWSFLASH 
Duchess has whelped 2 beautiful puppies on the 19.04.06
Duchess x Smokey litter whelped 08.02.05
 "Duchess goes R/Up to the Winner of Winners at the recent Utility Dog Club Battle of Champions…also..
"Duchess" wins top of  the girls in the 2003/2004 Siberian Husky Club of NSW Point Score Competition"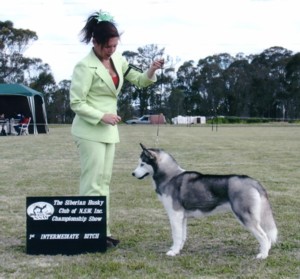 Duchess wins Intermediate in Show at this S.H.C. of NSW Specialty Oct. 03
and Best in Brace with her mum Princess 
Duchess has really been holding her own lately. She was Placed 1st in the Intermediate class at this years Melbourne Royal and was given a good look for Reserve Challenge Bitch. In 3 shows on her way home she received BCC for two of them and her mum Princess one. The week before she went to Melbourne at a four show weekend she won 3 of 4 BCC the other was her mum. With these she won Best Exhibit in Group, 3 Intermediate in Group and a Intermediate in Show and racked up 61 points for the weekend. 
"Way to go my Sweet Cheeks" Proud of you!
Duchess wins Intermediate in Show at the Sydney Kennel Cub Show at Erskine Park 3.8.03. This was done under 3 International judges to get there. 1 for breed, 1 for Group and 1 for General Specials. A proud moment. (photos above and below between blue lines taken by World Class Photography)

Duchess is our soft, sweet, and very pretty girl blue-eyed girl,  the essence of her mother Princess and to whom we are also very proud. She has now attained her Australian Champion title at 21 months.
She and Chief made it very hard for the judges to split them as babies. Duchess had multi class in group wins and won 1st place at three months to the day in her first 3-6 months Sweepstakes and has many sweepstake wins to speak of. She was then shown very little from minor to junior due to my knee injury and being a mummy's girl, not to keen on men.
A little confidence building and a knee that now works, Duchess returned as a Junior. At just 12 months she won 2nd place as a Junior at the June 2002 Siberian specialty and then again at 17 months at the October 2002 10th Anniversary Specialty. She and her mum Princess entered and won Best Brace in Show and along with her brothers Chief and Lightn', Princess again with her kids won Best Parent and Progeny also at the 10th Anniversary Show.
Duchess also took 3rd place at the Melbourne Royal in the Junior class that BCC was from 1st place and Res BCC was 2nd place.
Duchess as a junior had many Junior in group wins, and has many Res challenges to Princess but had a tough job to beat her mum for challenge (only 3 times , 2 were BOB) Princess was still young and strutting her stuff and achieving some very good results, to pull her would loose type. 
Duchess in Intermediate attained her Championship Title receiving at least a class in Group on each challenge bar one and started to give her mum a good bit of competition. 
Duchess now has taken out the ultimate in a Best in Show – my "Sweet Cheeks" has done us proud once more.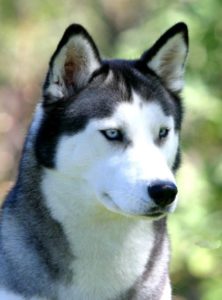 Duchess at 21 months attains her Aust. Champion title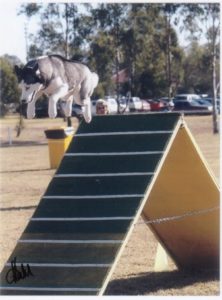 Duchess also loves to spend some time doing agility – it makes her excitable – sometimes a little too much so!